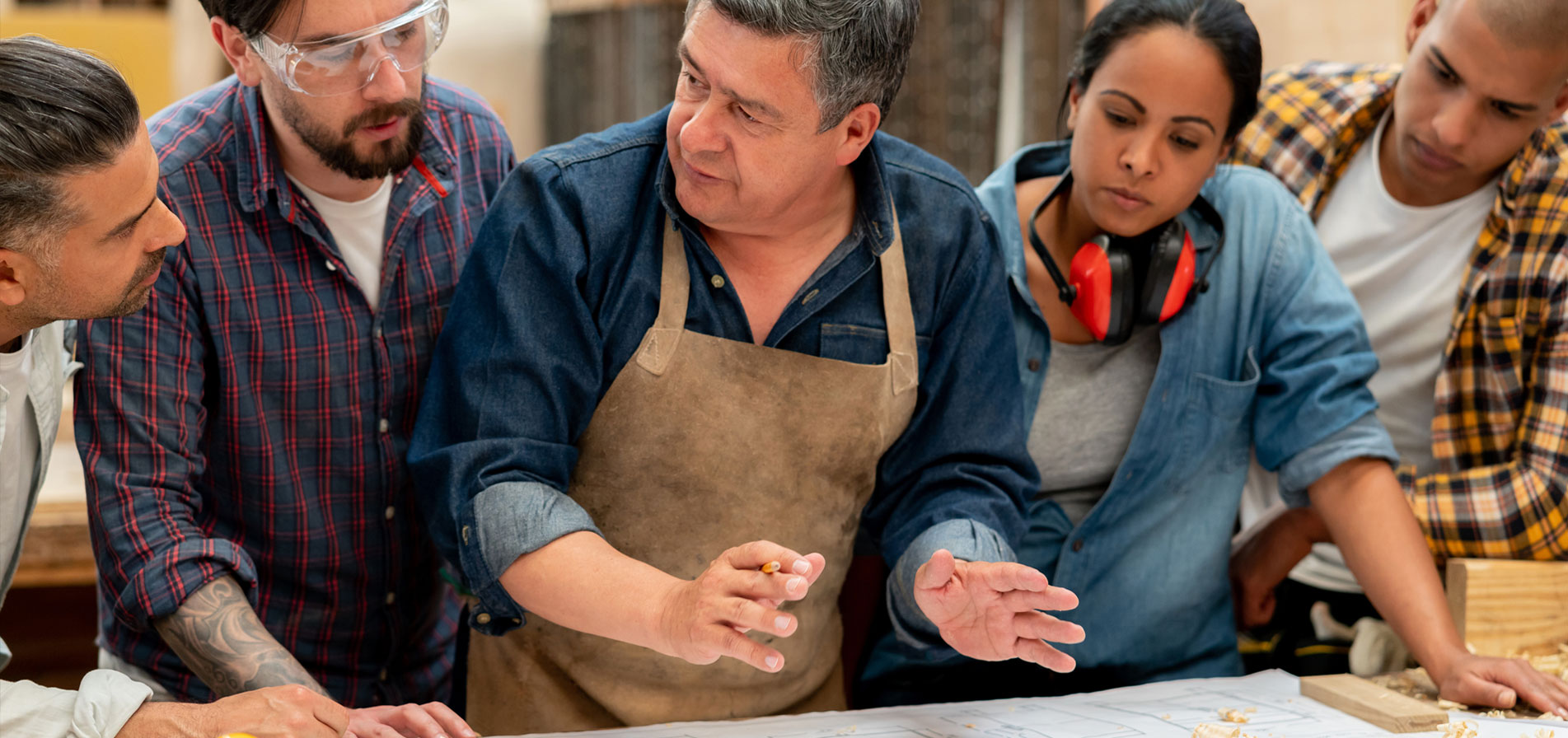 Let's Talk About Your Vision
The path to the completion of your project starts with the first phone call or email. Before we meet, let's talk. We'll do most of the listening. We want to know what inspired you to make changes to your home and what those changes are. Hopefully, you have some visual examples or photos. Email them to us before we meet. That will go a long way toward our learning the breadth and scope of your dream. The outline below describes our path to building your dream.
Understanding & Achieving Your Goals
STEP 1 — We Discuss Scope & Budget
The project scope and budget meeting begin the process. We establish a team relationship and determine how best to achieve your vision. We work with you, your designer, or architect to determine your needs. If you don't have a designer or architect, we can design for you. We establish a team relationship through open discussion about the type and scope of your project. Considerations include a range for budget, schedule, and agreement of expectations of all members of the team.
Once we agree on the parameters, we put our heads together about options and results, we move forward with our pre-construction agreement. Documents will be signed, so we're all on the same page, and you write a check.
During pre-construction, we examine each step of the building process in detail. We make determinations concerning everything from engineering to artistic finishes. Architects usually create a pricing set of drawings. We discuss opportunities for savings or physical building challenges. We place a high value on those concepts – understanding that sometimes, ideas don't exactly match the physical reality of specific elements. It's a process where we bring our trade and craftspeople to the table and get their experienced input.
Then we get down to the business of building – that's what our team enjoys the most!

During Initial Design, we drill down to check out your home's current status or build and listen to your desires about your ideal space. What do you like? What do you want to avoid? What works and what doesn't? How long do you plan on staying in your home or business?
Now is the time when inspiration photos offer essential ideas. They show your style and destination. Together, we may find materials and finishes you may not have been aware of, but you like. Your existing space will be measured and documented. Then we offer some design ideas, along with ballpark budgets. We discuss the pros and cons, what challenges we may face, and combine or change the approach to achieve the best solution.
STEP 3 — Moving To Development
Discussions offer a singular design that establishes details. We create a roadmap to your destination with drawings and blueprints. We keep in mind your desired result at every level, considering all materials and their end-use. Your goal and how to achieve it becomes more than a concept – it becomes a plan.
STEP 4 — Locking In The Details
We're ready to move your idea from design to reality. We stay with you with every step and may come with you to see the selections suppliers have to offer. We provide knowledge about what we have learned or been inspired by through experience. We understand that anyone may experience information overload during this time, and we'll use processes that minimize stress. We realize that selections may change, or it's too early to make a decision.
During this phase, we will meet with our carefully selected subcontractors for a survey of your home or business. Our trade partners are experts in their fields – that's why we've chosen them. They sometimes provide a fresh perspective and offer insight for adapting their processes to avoid surprises and change orders during the build-out.  Their input and estimates go into the budget for your project.
STEP 5 — Creation Of The Contract
The contract is a design document yielding tangible information. Specific parameters regarding the scope of each of the trades establish the text of the agreement. If selections for certain finish materials aren't known, a median budget figure is listed. The language of the contract reflects that line item as being unknown or temporary. We create a schedule. Once the contract is signed and a deposit paid, we're on the way to construction.
STEP 6 — Construction Preparation
We apply for building permits, order materials, coordinate their delivery, create PO's, and organize the schedule of trades to finalize the plan. We contract with our expert trade partners. We'll introduce you to the project manager – a liaison for you with designers, suppliers, and trade partners.
STEP 7 — Field Preparation for Construction
We realize that we are working in your home or business – we're just visiting. We take care to protect those areas that are not a part of the construction. Demolition for us is more like de-construction. Knowing how a structure is built makes us more efficient when taking it apart. We share progress reports with you from day to day or week-to-week. You'll be billed in increments as agreed upon in our contract. We know you'll have questions, and the project manager is available to you at any time, just give them a little lead time if you need to talk on site. The project manager will document any discussion and share it with the trade, designer, or company leaders.
STEP 8 — Construction Completion
We take great care in doing a job we love. We live to make sure the details, dimensions, and design installations work for you. If there are changes dictated by the structure fitting to the design or condition discovered behind a wall or beneath a floor, we'll offer solutions and seek your approval before moving forward. We make sure your dream is complete – the right way. We'll schedule a meeting for a walk-through before the handoff. The walk-through will address the specific features and mechanical operations of all installations. Equipment manuals and warranties are gathered and handed over to you for future reference.
We consider ourselves a part of what we create. When the dust has settled and the equipment removed, we're still available. Count on us checking in from time to time. We'll make a phone call or an email confirming that everything we've created for your dream is as you've always wanted. If something needs attention, your warranty kicks in, and we'll fix it. Above all, we respect your new space, and we want you to enjoy it!